Stephanie Wangui
– Relationship Officer- Young Supporters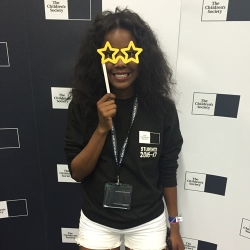 I am responsible for building strong relationships with RAGs and key volunteers across the country and working alongside them to further nurture and develop our Student Programme. I also help coordinate our international treks and marathons for students which, as you can imagine, is tonnes of fun.
Within our new strategy, we are finding new ways to engage students with our work whilst making sure they have the best possible experience. I am thrilled that I've been given the opportunity and scope to creatively strategize what this will look like. I will be collaborating with our Product Development team, Campaigns team and Volunteering team to develop a new holistic offering.
I applied for this role, because I had previously been a Challenge Leader for The Children's Society and had had a fantastic experience coordinating my team's fundraising at university – I had also got to fulfil a lifelong dream of summiting Kilimanjaro.
On starting my role here, I went through an incredible induction programme that grounded me in The Children's Society's work and culture. Support and personal development is paramount within the charity and I have blossomed in my year here.
My role keeps me on my toes - no day is the same. Right now I am project managing RAG Conference; an annual event where several charities, RAGs and volunteering staff come together over three days to exchange insights and work to make the following academic year more successful.
The new academic year will soon follow which means travelling around the country, hosting fundraising workshops and supporting our key volunteers.